Born creatively expressive; art played an important part in Raynefyre's understanding of their perceived realm.
Drawn to explorations of the soul, traveling globally illuminated their inner journey leading to the discovery and study of sacred geometry with Vancouver's, Ari Lazer in 2016. Recreating patterns depicted by ancient cultures around the globe – sharing resonance; subconscious comfort of patterns found throughout the universe.
These patterns stripped back to their foundational lines provide a framework of complex simplicity; revealing hidden aspects of the self. This ordered process integrates this sacred HEARTist's compassionate understanding and wisdom. Conceiving each unique piece through meditation, and visualization. Holding the vibration of Raynefyre's intent, singing each mantra through metallic paints on handcrafted circular wooden panels.
"Your work is medicine for the soul."
~Deborah | Vancouver Island
Luminescent Truth
My recent piece is about opening the gates and fully stepping into using my voice as a tool for compassion and change. Encouraging shared insight through my lived experience. Opening the throat centre to share what's true for me. It's a reminder that, what I say matters.
For this 22″ round painting, I used metallic paint that reflects the light. I also played with light emitting glow in the dark pigment to shine light on the shadowiest times.
This painting is a reminder to not hold back and say the things I desire to hear in the world.
It's current value is $555
This was my first invitation to showcase my original work. For this show, we installed a blacklight to enhance the luminescent UV reactive linework. The best part of the night was feeling the support from all of my island friends and community that came out to this event.
Most of these pieces have sold! My collection has spread like a global wildfire and is displayed in most of the places I've lived, and visited in the last five years including: Sweden, Germany, New Mexico, Ontario and across British Columbia. My commissions have also been sent to the various corners of North America.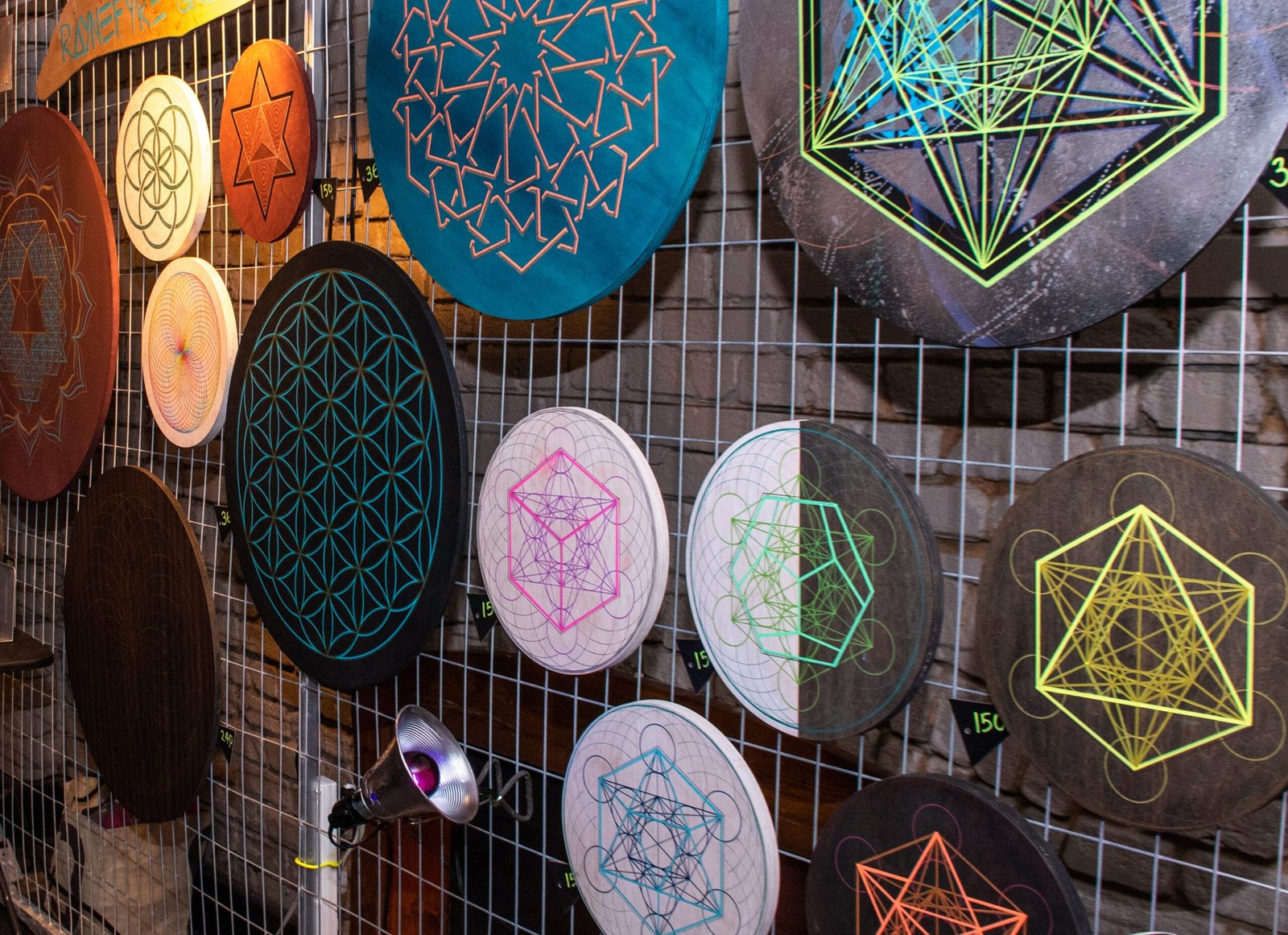 Hand Painted Originals
These original hand-painted mandalas featuring universal sacred geometric patterns are for sale. See something you like and feel like the price is out of reach? Contact me and I am happy to work out a payment plan to make my art accessible to you.
5D Revolution
This 12" round multi-layered hand-painted original. Water based stained Baltic Birch with acrylic metallic paint.
Created in the Spring of 2020 and the start of the lockdowns, I had a vision of co-creation that had 5 stable unique entities co-existing and supporting in new and impossible ways. This interlacing pattern plays tricks on the eye of the beholder.
$333
Sri Yantra - Radiant Heart of Consciousness
This 36″ round hand painted mandala was created with metallic acrylic on a water based stained maple panel.
This is the most popular mystic patterns in the Tantric traditions. Depicting sequences and the emanation of realities and the energies of creation pulsing out from the singularities of the center. It is a dynamic map of reality, a substrate for ritual and a focal point for meditation.
$1800
Sacred HEARTist Portfolio
Some examples of my past commissions and inspirations of the soul. Do you see something you like? Contact me with your curiosities and let's see what we can co-create.
Capturing imagery through time lapse is one of the ways I like to express the beauty of the world I interact with. Enjoy 🤍