Queer Embodiment, self love, touch & play
How may I inspire your DESIRE or better yet, what does your heart and soul long for? I love to co-create RITUALS that support your journey of (re)connection to radical selfLOVE, deeper embodiment, PLEASURE, sex MAGIC and personal transformation.
Tend to your queer heart's pleasure. I invite you to deepen your sense of self appreciation, sexuality and erotic potential.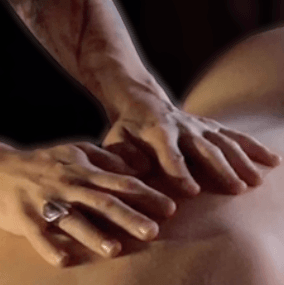 Ask me about my community BodyWork referral program
Every booking referral receives credit towards next your session. Credits are bankable and never expire.
Full Body Awakening Massage
How would you like to be touched? This pleasure-driven-active sensual massage is designed to meet you where you are at in each moment.
This erotic trance massage is for QueerHearted folk who are ready to deep dive into full body awakening pleasure. Experience divine wholeness through touch that meets you exactly where you are.
sixty minutes - $200 | two hours - $300
Book now
"Raynefyre is an exceptional communicator and is adept at creating safe space to experience deep pleasure, profound healing and expanded awareness. Since my session I have felt supercharged and full of buoyant, vibrant energy."
JQ | Vancouver, BC
"I was fortunate to receive support from Raynefyre in the form of ecstatic massage/body work while I was going through harsh side effects from cancer treatments. It was a point in my life where I felt I had been disconnected from myself for months, and could not find the will or energy to work at getting back (or moving forward). What this support did for me is hard to describe in words, which makes sense because it was a somatic experience and not about mental understanding.
Raynefyre's physical presence and touch let me reengage with my physical self in a way that brought me past the pain and exhaustion I was feeling. I connected with different and pleasurable sensations, that made me feel at ease and calm for the first time in months. To this day I remember to breath because of this experience. It left me with something I had lost for a while .. hope. I don't know what your experience will be working with Raynefyre, but I can tell you for me it was getting a piece of my self back."
Anonymous | Victoria, BC
Sensual Skin Hunger Massage
Is TOUCH your love language? You are worth it! Skin hunger is a modern condition that has amplified over these times of intimate isolation.
I provide the touch you need to sooth your being and satiate your appetite. For lonely QueerHearts, Women and Men who are longing to be touched.
sixty minutes - $120 | 5 sessions - $500
ninety minutes - $150 | 5 sessions - $600
Book now
Four Hands Erotic Massage
For Couples - Embodied learning is FUN! In this session each person will receive the quality of touch of their choice and learn new techniques for reaching pleasure.
I will guide each partner how to provide pleasure driven massage techniques to meet their partner's desire.
two hours - $500 | three sessions - $1200
Book now
"I am very grateful to have received an erotic massage from you. Your loving presence made me feel safe and I felt you normalize my sexuality for me. I very much enjoyed the massage and could feel soft yet powerful energy flowing out of your hands and into my body. The massage was gentle but firm."
JB | Vancouver, BC
Pay what you can Bodywork Sessions:
One session per week for new clients in need.
Post Surgical Scar Aftercare
This is for QueerHearted humans who are in recovery from gender affirming surgery.
I provide trauma informed touch and scar remediation aftercare for folks recovering from gender affirming surgery. I offer support and care to be fully seen and heard in your gender journey.
sixty minutes - $120 | 3 sessions - $300
Book now